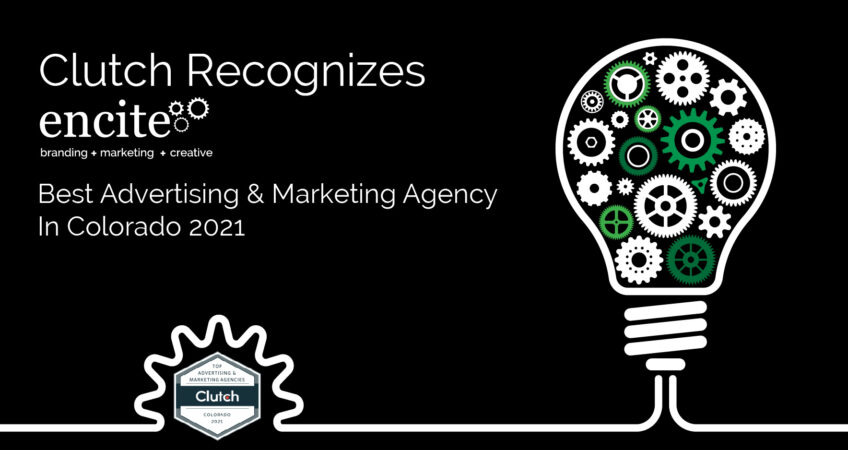 Clutch Recognizes Encite as One of the Best Advertising Agencies in Colorado
Clutch Recognizes encite branding + marketing + creative as one of the Best Advertising Agency in Colorado
"encite branding + marketing + creative is a full-service boutique
marketing
and advertising agency. Today, we are looking to celebrate an incredible milestone for our company as Clutch names us as one of their best advertising agencies in Colorado.
Being named as a leader on Clutch is such an honor and privilege. This award cements our legacy in the industry and in Colorado as one of the most successful and reliable marketing and advertising agencies. We are truly grateful for this award, to be honest, we still couldn't wrap our heads around this incredible feat!
The encite branding + marketing + creative team would like to extend our gratitude to Clutch for this amazing award. To our clients and customers, thank you for always choosing our team and services throughout these years.
We couldn't have done it without you, and we really mean that.  You've been vital to our success and we wouldn't be standing here today without your help and support.
On the other hand, you might be asking yourself, what is Clutch? They are a B2B ratings and reviews platform that curates some of the best content for the B2B industry. Their platform also helps small and mid-market companies and enterprises find the best service providers around the world for their next projects.
Looking for more information about us and our services? We got you! Visit our online portfolio on our site and check out our previous works and collaborations with other amazing companies in the market.

Feel free to reach out to us if you have any further questions. Our team is always ready to help you."
Watch the YouTube video: