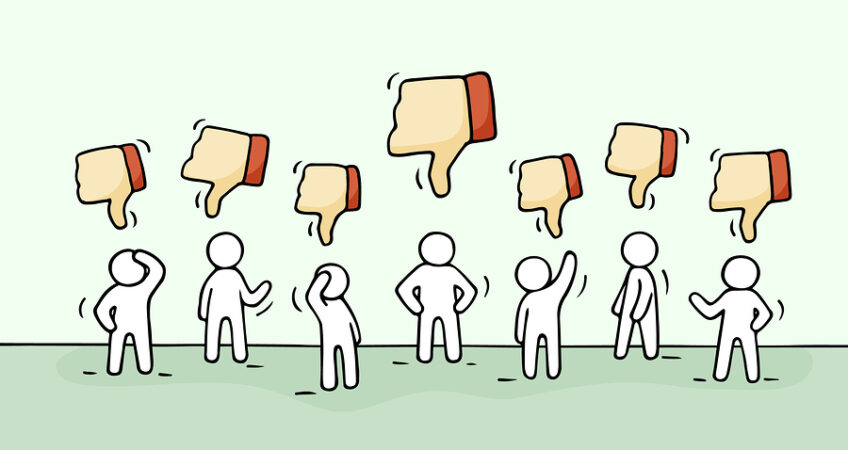 The Five Biggest Social Media Mistakes
Social media is a powerful tool for companies to draw more traffic to their websites, advertise new products and services, and engage with current or prospective customers and clients. Even brick-and-mortar stores can benefit by broadcasting news about the company on social media outlets. These outlets can help broaden the exposure of any company or brand if used correctly. However, too many companies aren't using social media as the incredibly useful tools they can be. Here are five of the biggest social media mistakes I see companies making on a regular basis:
1. No evolution. Evolution is all about improvement. Just ask Darwin. Sometimes you have to break the rules to improve your branding strategy.
One of the biggest mistakes I see brands making in design is not evolving their creative marketing process to fit changing marketing channels. Businesses using social media are still sticking with design fundamentals that state that a visual identity (for example) needs to be seen the same way whenever and wherever a consumer views it. While this is absolutely true, many marketing channels make it impossible for brands to adhere to this rule without making their logo or identity unreadable. Brands need to (carefully) break this rule to ensure consumers can recognize their visual identity. They need to design artwork that still is recognizable as the brand but simplified.
The best example of this is the profile picture on Facebook. The size dictated by Facebook is 168x168px. This size ensures that readability or recognition of the artwork is negligible at best, but when viewed on a mobile device, that size decreases dramatically. With over 70% of users viewing Facebook on their mobile phones, the readability and recognition of a brand's visual identity can be a real problem—unless you evolve and find a way get out of this trap.
2. No optimization. With so many competing social media outlets these days, you have to optimize each post for each social media channel you're using to promote your brand.
Another critical mistake that many designers make is not optimizing each post to the specific social media platform they're using. This goes along with the evolution of creative to fit changing marketing channels. Facebook, Instagram, Google+, LinkedIn, and Twitter all have different formats for posts and different types of content that make posts more successful than others. Obviously you should post pictures on your Instagram account. Facebook users respond better to posts with pictures and videos as well. Because different customers use different social media platforms differently, they'll respond to different media forms on your posts. Try to keep your messages and your imagery as similar as possible, but take into account how users of all of the social media outlets you use to market your brand respond to different kinds of posts.
3. Consistency, not repetition. Social media design should be all about consistency, not repetition. If you're posting the same few images in every social media post throughout all platforms, you're boring your customers.
Eventually, even if your customers see your posts on social media, they'll start tuning them out because they've seen all of your posts a million times before. You can maintain consistency by using your brand's logo in all of your posts. Make sure the brand logo is in the same place on each post. This can be a way to stay consistent without beating customers over the head with it.
Many companies think that they need to repeatedly post links to their site on social media channels, and they're right in most cases. Remember, however, that customers aren't on social media to find links to your site so they can give you money. They're there to giggle at videos, pictures, and memes. They're there to read interesting articles and learn about new things. They're there to keep in touch with their friends. Keep the link to your website in every post, but offer something else in addition to the link. Customers that only see your brand posting links to its website will get tired of the same old thing and they may even unlike you or unfollow you. Offer your customers media or informative, useful writing in your social media posts in addition to your website. Give your social media followers a reason to pay attention to your posts.
4. No invitations for interaction. I'm not just trying for alliteration here, as much as I love it. Your social media posts have to be designed and written to invite interactions from your followers.
It's difficult to identify a few social media post design elements that invite interaction every time. There are no automatic features that your posts need to force your followers to respond and interact with you. The best you can do is learn all you can about your target audience and create your social media posts in such a way as to illicit responses and interactions on whatever social media channel you're posting to. As I mentioned above, pictures and videos generally get more exposure and get noticed more by customers on almost any social media platform. But true engagement and interaction comes from more than posting a few funny cat videos.
Craft social media posts that ask questions, challenge your audience if appropriate, and ask for their opinions. Twitter allows you to post polls to your followers who can then respond to questions. Find ways to engage with your target audience on social media and respond to your social media posts. And when people respond, respond back! Start conversations and maintain them with your potential customers. You're building your brand in the most important space possible when you show that you're alive and a human: in your customers' minds.
5. Focusing on numbers, not real people. Anyone can start a Twitter profile and gain a few fake followers—bots, other advertisers, etc.—but only real people following and reading your social media posts will become or remain loyal customers.
Don't be impatient with your social media networks. It takes time to build a useful network of followers who can actually buy your products or services. You can follow bots and advertisers and they'll usually follow you back automatically, but these fake profiles aren't going to your website, telling their bot friends about your products, or buying your products themselves. You have to build a slow and steady network of real people on your social media outlets for all the effort you're pouring into social media marketing to produce real results.
These five huge social media mistakes can severely limit the effectiveness of your social media effort and even your entire marketing plan if you're not careful. I'm sure many companies make a dozen more mistakes often and others will find new ways to torpedo their social media marketing objectives in the future. For now, stick to engaging, interactive content optimized for each social media channel you're posting on aimed at real, living human beings; and if you have to break some design rules to evolve, do it.
Save