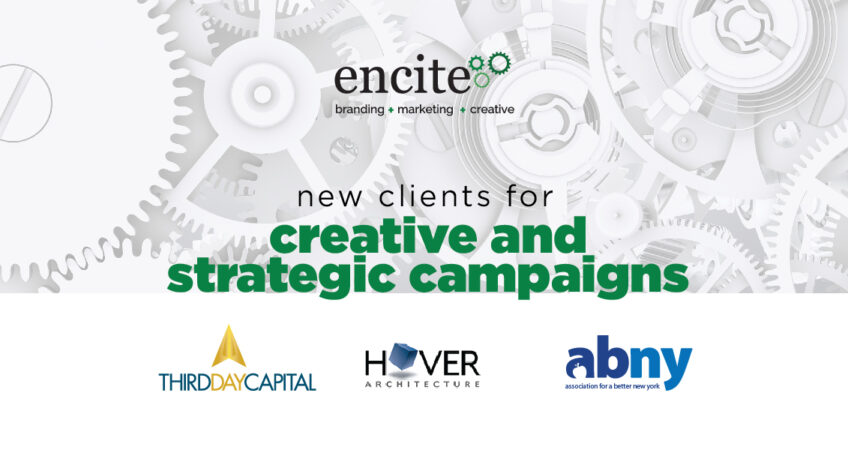 encite branding + marketing + creative Signs New Clients for Creative and Strategic Campaigns 
Advertising agency encite hit the ground running in 2023 – we've secured several new accounts in the first six months of the year, and we're excited about all of them. Our competition across all of our geographic markets is steep, and we're happy with the growth we've experienced in Denver and beyond. 
Three of them stand out to us from a collaborative partnership perspective, and we thought we'd give you an introduction to them here – The Association for a Better New York, Hover Architecture, and Third Day Capital Management. 
"We love the collaboration with these clients – we feel that's the best way to find the results they need. It's this collaboration that helps us get real time feedback from them on how the campaigns are going and what results they are seeing," said encite President Adam O'Leary. "If it is a creative project, this type of communication is key to make sure we are adhering to their vision."
The Association for a Better New York is a broad coalition of corporate, nonprofit, labor, educational, health, cultural, and government leaders focused on exploring and implementing ideas that keep New York City moving forward. encite was hired on a project-to-project basis to create the organization's 2022 annual report that highlighted member events, coalitions, their board, staff and more. 
encite is also handling content, email, social media marketing and website development for Hover Architecture is a full-service architectural firm that draws on years of experience on projects including automotive, retail, medical, tenant finish and mixed-use facilities. They handle every phase of each project, from entitlements to design, development to construction. 
And finally, Third Day Capital Management, a registered investment adviser providing bespoke, sophisticated wealth management services in an accessible and relatable manner, chose encite to lead their website development initiative. 
"Our client landscape is evolving and we're proud to be partnering with so many dynamic brands to help them cut through the clutter and reach the people they're trying to target," said encite VP of Operations Sophie Mann. "All of these companies have already made a name for themselves in their respective spaces, and we can't wait to watch the brands continue to evolve."