What Not To Do As A Social Media Manager from a Social Media Agency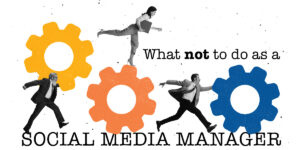 We give a lot of advice on this blog, from social media to SEO and everything in between. But something we don't talk about enough is what not to do. Because here at encite we're determined to provide you with the most valuable content and help you to take your business to the next level, we've outlined a few "don'ts" directly from a social media agency. Keep reading to hear about some of the most common posting pitfalls – and don't worry, we've already made the mistakes so you don't have to. 
Being Too Broad
It's actually a relatively common mistake: you want to please everyone and capture as many eyes as possible, so you structure your content to please everyone. It may not sound so bad, but this type of strategy doesn't do anything for you. Being so concerned with remaining neutral enough to appeal to anyone actually makes you less appealing to everyone. It is not a good way to build loyalty or garner brand ambassadors.
Instead of doing this, make sure to narrow down your target audience and make content that appeals to them. That way, you are being intentional with the content you post and acquiring people who actually have a need for your product or service, people who can realistically become loyal customers/followers and want to engage with your content. As an added bonus, this strategy makes it easier for you to develop your social calendars, because you have a set theme to develop all of your posts around. 
Being Too Controversial
Getting into sensitive topics, especially ones that have no business being a part of your brand, can lead to alienating followers and current or potential customers that could have been valuable to your business. Unless the subject matter is particularly important to your company –not you, the keyword here is company–, there is no need to voice your stance to the public. If, for example, your company's mission is conservation of the environment or sustainability, then commenting on social issues in that space is completely relevant; but you shouldn't be voicing your opinions on, say, Kim Kardashian and Kanye West. 
General Rule
As a general rule of thumb: avoid being too political outside of the values you uphold in your company. So unless you are trying to stand behind your team or your mission and you have some credibility on the subject matter, keep the debatable language to a minimum. There are many ways for you to show your support for a certain issue that doesn't push the "other side's" buttons. A great way to do that is to uplift the people close to your business. Platform people involved in the issues you feel strongly about in a way that highlights their attributes outside of the controversy. For instance, there are many political discussions around women's issues lately, and say you personally side with the feminist perspective. Instead of tearing down the other side or even voicing your personal take, highlight your female employees and the wonderful work they do at your company or show your appreciation for having a diverse team; you can even tag those employees who speak about the subject on their personal platforms. This type of action shows that you foster an environment where women are supported without having to directly voice your opinion. 
Following the Pack
You may unintentionally blend into the endless content of people in your industry and ,in turn, fail to showcase your selling point. This usually happens after a competitive analysis, where, instead of incorporating some of the good ideas you saw from your competitors, you strip down what makes you different to mimic the success you see others having.
There are many benefits to using what works for your competitors, but you want to do it your way because the competitor you copy will be the one to reap the rewards for being the first to do it and the best to do it since it's their way. There's something unique about every company, every organization, every entrepreneur and you shouldn't be taking away your "thing" because competitors are meeting the objectives you set for yourself. You should be exploiting your "thing" or putting your own spin on the tactics or content that work for your competitors. Leads or indifferent stakeholders want to see what makes you different –why should they choose your company over the competition– and following the pack/copying someone else's "thing", will only make you another one of the many generic options available to them. It's incredibly easy for people to sense a lack of authenticity when using this strategy, so stay true to yourself and become the company that competitors want to copy and customers want to choose. 
Now you know what not to do. 
Avoid these common mistakes, and you're already off to a great start. Since we've been focused on the "don'ts" let's end things with a "do". We do recommend consulting with experts on how to make your social media content as engaging and effective as possible, so contact encite branding + marketing + creative today to develop the social media strategy that will actually work for you.
Want to read more about Social Media Strategy? Check out another post of ours. Or here's one from Forbes.