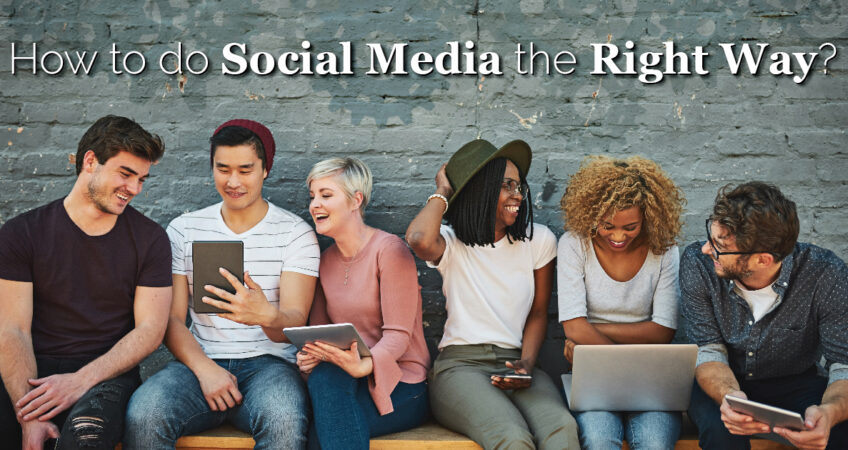 How to Do Social Media the Right Way
Throughout the last decade, the umbrella of messaging channels we call social media has developed at warp speed. In Facebook's early days, nobody would have guessed that the time-waster of a website would become such an integral part of the way we do business in the modern world. With descendants like Twitter, Instagram and LinkedIn constantly gaining popularity, navigating, managing and simply understanding the world of social media can seem overwhelming.
However, making these websites work for you can leverage your business and help you gain top-of-mind positioning with potential customers. According to Statista, as of this year, 77% of people interact with social media regularly, a figure that is up 20% since 2012. Social media popularity shouldn't be looked at as a trend, but as a tool you can use to reach your target market.
One of the biggest advantages of a strong social media presence? It's cost-effective. Creating, maintaining and posting to your profile is completely free. Utilizing these options result in organic social content – in other words, interactions that are of no cost to you. There are options to participate in paid promotions, but even these are relatively low-cost and can quickly gain traction and shares from people all over the world. Some examples of paid promotions would be sponsored ads that appear to a certain type of user profile.
Wendy's is a great example of a company using social media to its advantage. You might be asking yourself, "Why would I follow a fast-food restaurant on Twitter?" Take a quick look at their profile and that question will be answered quickly. They're not afraid to poke fun at competitors, and they interact with their followers almost daily.
While it might seem like a risky move to publicly trash your competition (not to mention how they interact with critics in their mentions), the public seems to love it. This playful approach to social media makes an otherwise faceless corporation approachable – and it seems to be gaining them more than just followers. After a series of viral tweets, Wendy's stock began to rise as well.
So, how do you make social media work for you?
If you don't already have Facebook, Twitter and LinkedIn accounts set up, this is step one. These websites can be incredible marketing and public relations tools. Once you're online, develop a personality.
Much like the importance of having a consistent brand image, having an established voice on social media can help to cut through the noise. Just like any other part of the branding process, you want to avoid inconsistencies. All the different aspects of your social strategy should work together, from tweets to blog posts to articles you choose to share. Understanding not only your own brand, but the audience you are trying to reach is a huge factor in the success of your social efforts.
The type of content you chose to promote via your different social channels can be diverse, ranging from informative, relevant posts related to your specific industry to creative, more free-form pieces that aim to build on your brand's already defined personality.
Here at Encite, we try to utilize both types of posts. For example, we have a series of blog posts that detail the importance of several elements of a marketing plan – brand consistency, networking, social media, and more. On the other hand, we also develop content with a more lighthearted focus. A blog post discussing fun happy hours in the area or our favorite Netflix shows helps to remind our clients that we're not always trying to sell them something.
Another important question to ask is, "Which social site best serves my interests?"
Facebook emphasizes both written posts and videos. Twitter focuses on short blurbs of information. Instagram revolves around photography. While all of these websites can be used to your advantage, depending on your business, one might be more suited to your specific needs.
Before you know it, you'll be reaching your target audience, engaging with them and building a relationship you may not have had before.